7 Ways to Improve User Experience For Mobile Website Users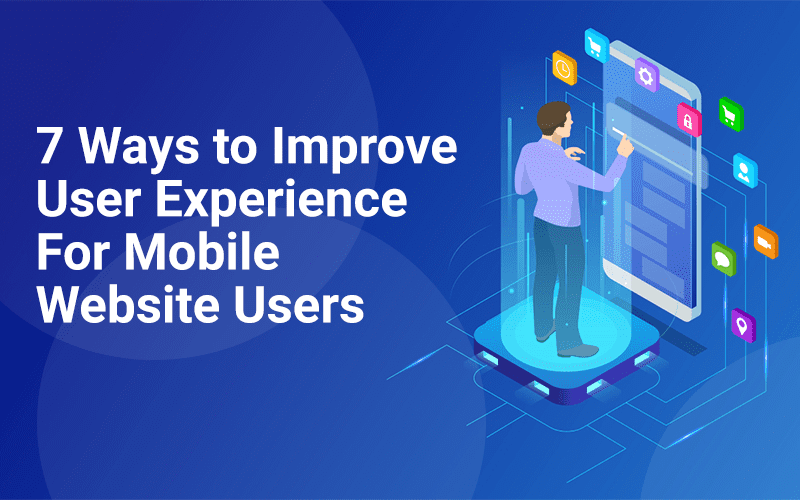 With advancements in mobile application development technologies, it is hard to imagine a good user experience for users accustomed to it. But as a business which has no purpose whatsoever for an app, mobile website development remains the only way. And why not? Websites serve a very good purpose to showcase a business online, the challenge, however, remains to optimize it to a good degree for user satisfaction and improved user experience.
Not all businesses would directly benefit from mobile websites, some carries and impending need for a mobile app. Before moving forward on choosing which is better, you need to find the types of apps you can create as a part of your business. A web development company, their analysts can clear your doubts, and plan out the best possible mobile web market strategy for your business.
Why create a mobile website?
A mobile website makes your business reachable on the go, which is quite a preference with where we have come with portability. People browsing after their work hours usually do so on the phone, and the desktops/laptops are more like dying these days when it comes to social leisure. A major part of it depends on your audience too, if you are targeting gamers, they are on their systems all the time, a desktop website may be more beneficial in that instance. 
We aren't saying desktop websites aren't necessary, they are informational, and a must, a person looking at your mobile website would probably check your desktop website later. The simplest answer to why create a mobile website is to target the audience to the fullest, you simply can't expect anyone to come to visit with their computer if they are browsing on their phones.

The need of focusing on Mobile website User Experience.

With more and more elements and transitions being added to the website, impressing users with a good user experience is a must, and the people reaching on mobile websites would feel the lag if there is. Which is exactly what we are here for, seven tips to improve the UI/UX for users to feel comfortable using your mobile website.  
Forget the notions associated with a desktop website.

Keep the site size small.

CTAs and forms or advertisements.

 

Minimalist is the new in

Avoid square resolution images

Test it thoroughly

Create design elements that resonate
Let's begin with a brief on the top 7 ways to Improve User Experience for Mobile Website users
Forget the notions associated with a desktop website.
Don't forget about it completely, but only when planning a mobile website, as the dynamics of both differ based on almost all aspects. Notions of a desktop website will cloud your judgment for the mobile website, and to avoid it completely is the best strategy towards it. While you could display your many ideas at one instance of a page on a website, the same isn't the case with mobile websites.
You will have to think very carefully about what you are showing to the user at each instance, many won't scroll through to the end and make a complete analysis. Maximum appeal, minimalist design, should be the motto when designing the mobile website. Dedicate time to planning what to show, when to show, as that matters most in terms of the experience of the user. 
Keep the site size small.
Small screens demand small websites, no one wants to infinitely scroll to the bottom of your website, know when to put a stop to it. You are in for two goals, keeping the overall length of the page small, and minimizing the size of the website so that it loads faster. Keeping the size small would also help you with your desktop website, but in the case of mobile, it is an absolute necessity. 
The website needs to load fast, and that will be a crucial factor for the user to not pull down and swipe right your webpage. Infecciney is a user experience killer, and to avoid it, you need to tell your designers how images can be made lightweight, along with minimizing the transitions and special effects you are using in your website.
CTAs and forms or advertisements.
Call to actions and forms / Advertisements are the evil necessity you need, to survive and earn something of value from your website. We are considering both, as for those selling their products, CTAs and forms works, while selling others products, advertisements are the way to go. We know how tough it will be to do so, and you need to plan it smart for mobile websites.
Does a user ever like a CTA/Ad? When the user is convinced to buy would be the answer to that. And that's exactly why you need to take special care of this point, it is the one which will help you earn down the line. Place small ads/CTAs here, there, anywhere on a desktop website, and no one bats an eye, doing so would kill the user experience so badly on mobile websites, you could potentially lose most of your prospect customers. 
Minimalism is the new in
As we said above, minimalism is what could be the best approach towards improving your mobile website design in terms of user experience. While the mobile screens are small, we need an approach to create maximum value, from a minimal design, use the white space nicely and thoroughly, throughout. Many have adopted the approach for even desktop websites, and have successfully created many lifetime customers. 
The brand language is important, be it your mobile website or be it your desktop website. Going with minimalism won't only save you time and money, but will help users derive more value, in less time. The minimalist design also directly promotes user experience for mobile websites, as it unclutters the regular design language and provides a clear, detailed view of what's said. 
Avoid square resolution images
If your website isn't for an art gallery, or only for displaying pictures, consider avoiding square resolution images, videos, GIFs, as they don't resonate with the shape of the phone, they provide half the value while taking excessive space. The landscape is the way to go, saving you both space, and helping you put more content, with less clutter on smaller mobile screens. 
Test it thoroughly
Testing the app for a variety of resolutions, browsers, device types, goes without saying. Thorough testing in terms of website elements design, size, resolution, load time, along with testing for errors or spacing, is a must for achieving a good user experience. Your users would come from a variety of device types, with resolutions you can't put the finger on, extensive testing is required to make sure what's displayed and how it is displayed, if how you planned in the first place. 
Create design elements that resonate
Heard of the dark mode? Even use it on your mobile phone? So would anyone like shifting from it to vibrant colours, or even dull colours if they come from the daylight mode? You have to research and find answers to these questions yourself, we are just giving you an idea of what design elements that resonate to a user mean. 
Look at the bigger picture, and take advantage of what you possibly can. As tough as it is to get the user experience right for a mobile website, as easy would it be to make your visitors fall in love with your website. This is a high-risk, high reward business if you have plans to expand to mobile users, for the intricacy required, we recommend you to hire a website development company.

Conclusion
User experience is a must on everything you publish on the internet, and to make the most out of your investments. While the desktops websites are a necessity, there's no doubt the world's moving towards mobile, for all types of websites. If you follow the tips above thoroughly, you could possibly build a mobile website that users actually love, but intricate planning is required for it. 
We have developed many mobile websites for our clients and excel in both mobile and desktop domains. If you are planning to get a mobile website developed, and want it to be perfect, we can help you with our expertise in website development. Rather than trying to build a team of experts to implement the points above, you can leave it on our expert website developers, and we will take care of the rest.