Leverage the Power of RMM Software Solution & Make your Business Efficient
Transform your business' IT management with robust yet simple Remote Monitoring & Management designed for IT professionals to help them deliver centralised IT services across the organisation. Talk to our experts for custom RMM software development that works for your business.
Get Started
What is Remote Monitoring & Management?
RMM is the remote monitoring and management tool which helps MSPs to monitor clients' endpoints, networks and computers in an organisation remotely. The RMM IT software is deployed through a small software footprint installed on client systems, workstations, servers, mobile devices etc. Matellio's RMM software development services offer everything you need for endpoint management. We bring together an exceptional IT monitoring and management toolset with best-in-class integrations into a platform that ensures efficient IT services.
Key Features of RMM Software Solutions
The powerful RMM solutions come with stellar features that help your organisation's IT department easily manage the work remotely.
Why choose 

Matellio

 for RMM software 

development?
Our experts at Matellio understand your IT concerns and provide more than just solutions.

Integrity
Our teams follow transparent policies and NDAs to keep you safe with us.

Reporting
We keep you up to date with the project progress via communication tools.

Years of Experience
Our experts have been helping businesses with digital transformation for years.

Engagement Models
Choose from our wide range of the most common engagement models for your needs.

No-obligation Quote
We offer an easy project estimate without binding you into obligations.

Agile Methodology
Strictly adhering to agile principles, we ensure quality products.

Management
Steer clear of the project management issues with our expert managers.

Communication
We follow the communication channels that you prefer for accessible communication.
A Glimpse of How Your Custom RMM Software Will Look Like
The remote monitoring & management software will come loaded with features to help improve your business processes and operations.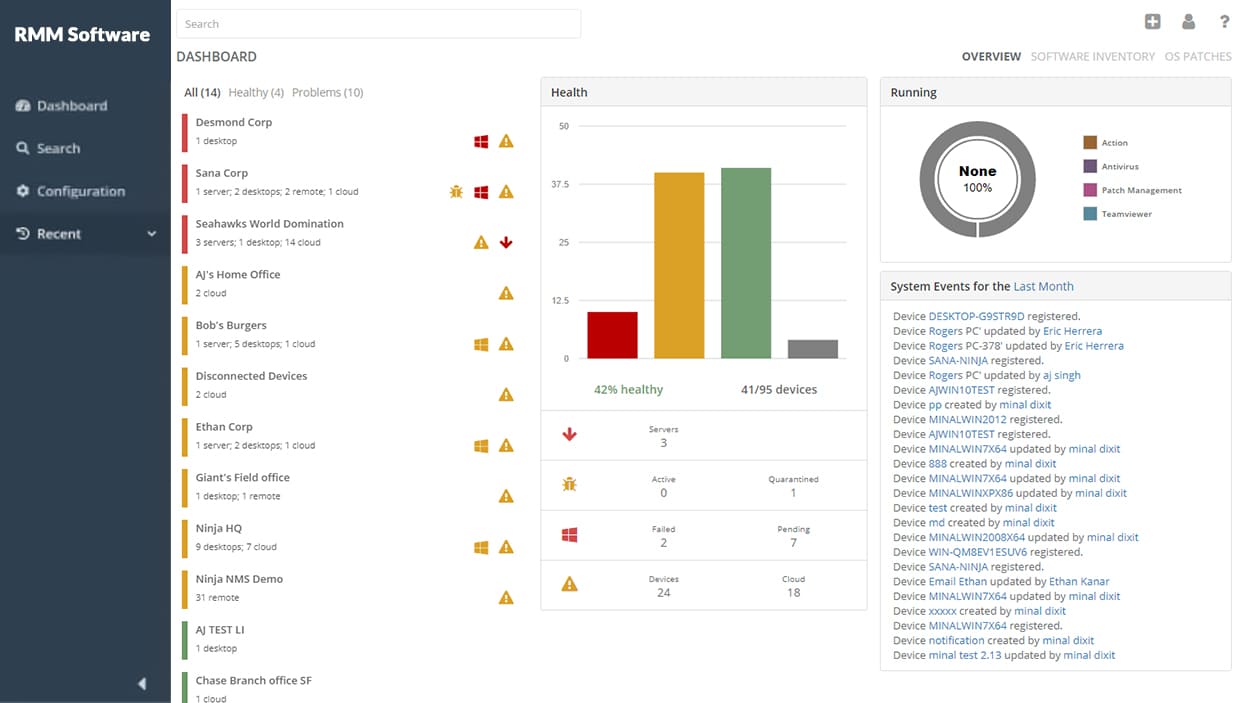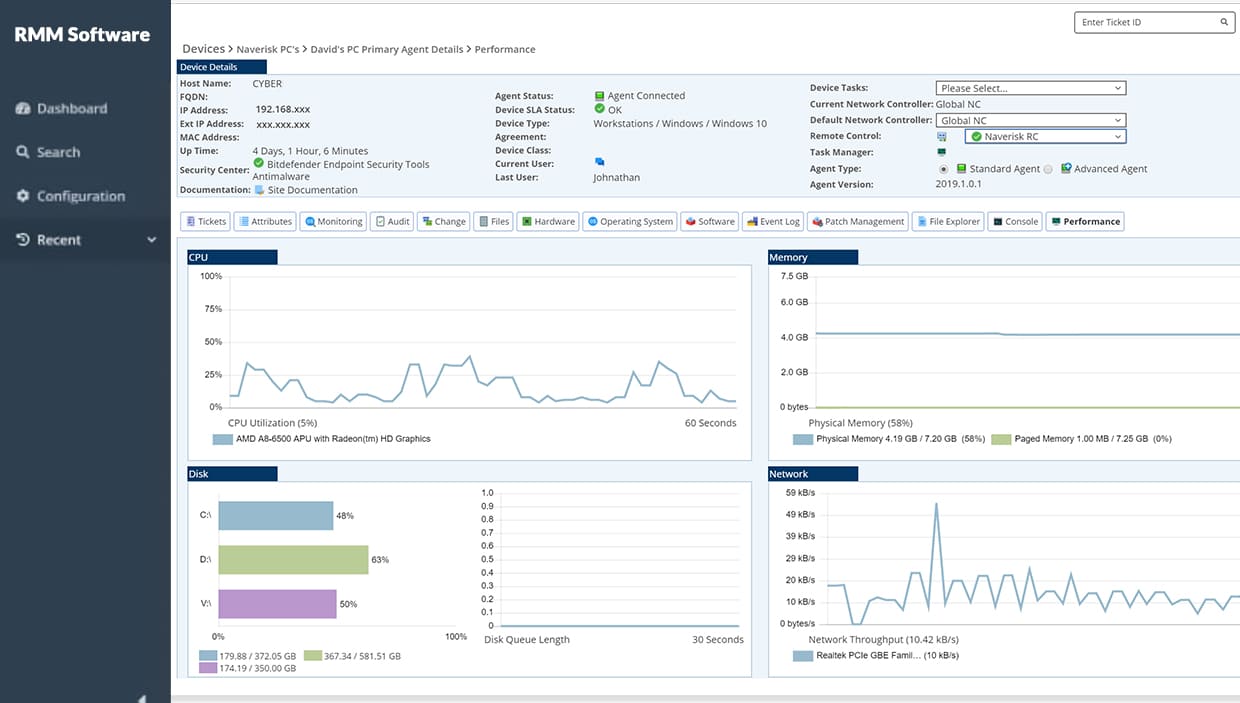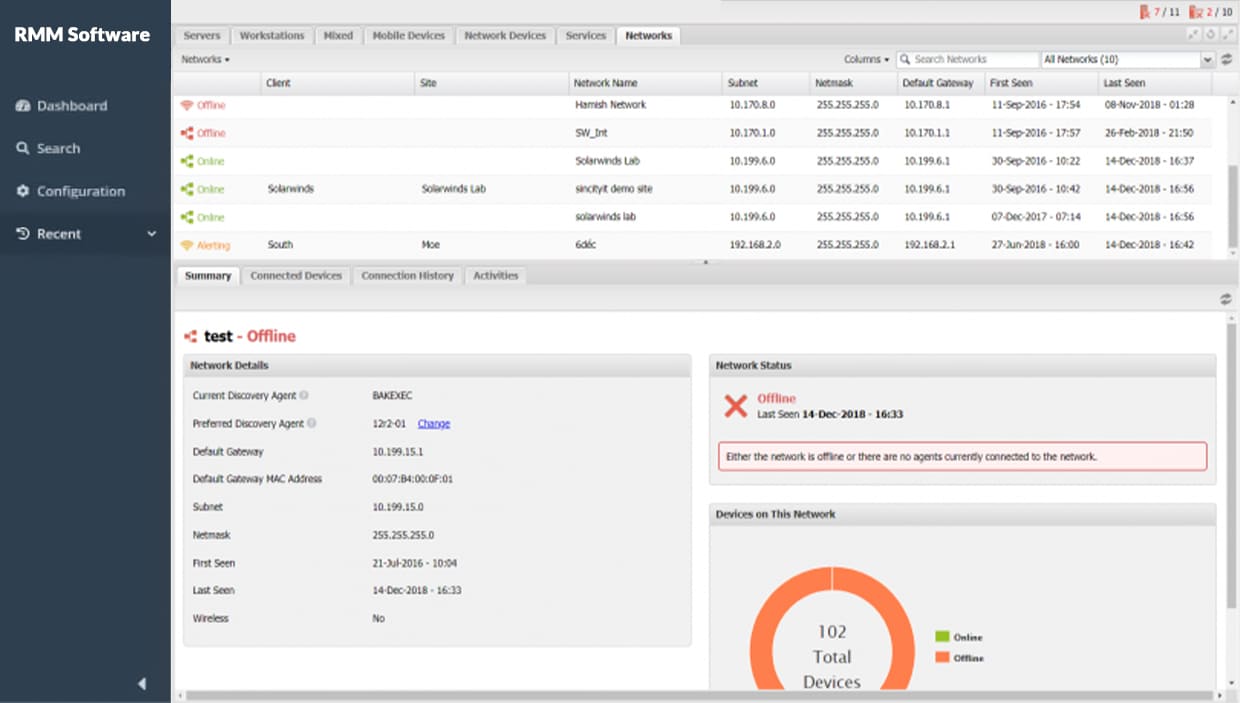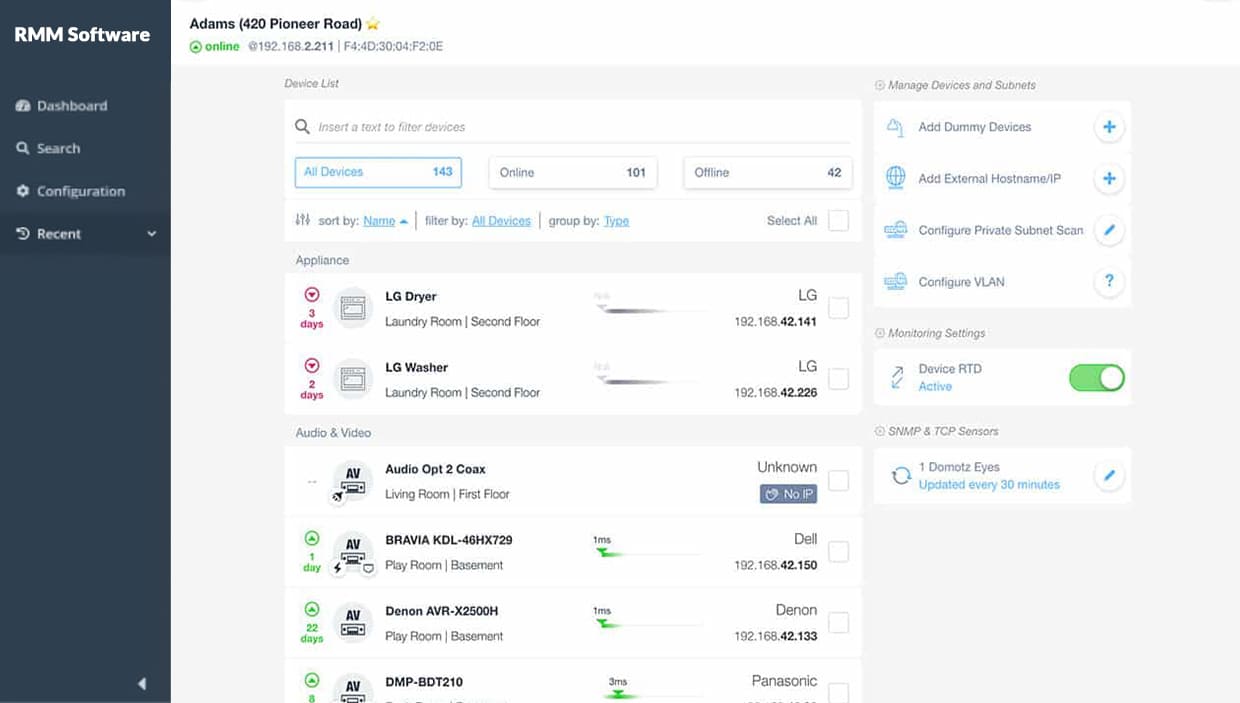 Process of Hiring RMM Software Developers from Matellio
We keep it simple for our clients to hire RMM Software developers for their next project with the most common hiring models.
Request For Quotation

Talk to Experts
Market Analysis
Feasibility Check
Cost & Time Estimation

Requirement Planning

NDA
Initial Designs
Estimated Work Hours
Sprint Planning

Development & Testing

Building the team
Documentation
Development
Testing

Support & Maintenance

Software Updation
Adding Custom Features
Post-launch Support
Backups
Client reviews
We are very proud of the service we provide and stand by every product we carry. Read our testimonials from our happy customers.
Frequently Asked Questions
Answers to the most common RMM software development questions by the experts.
1. What are RMM software solutions?
The Remote monitoring and management software solutions focus mainly on gathering information from remote endpoints and networks to keep a check on their health and to perform various remote IT management tasks on them without disrupting other business processes.
2. What is Remote monitoring and management?
RMM refers to a technology which enables monitoring and management by connecting directly to endpoints and network grid. Remote monitoring and management enable better business management and makes processes more efficient and cost effective.
3. Why do you need a custom RMM software?
There are various RMM solutions available in the current market, but they are no match for a custom remote management and monitoring software solution. With a custom software you get various advantages such as better features and a specific build according your business needs.
4. What are RMM software solutions used for?
Remote monitoring and management software solutions are mainly used for network management and asset monitoring for IT systems. These powerful software and solutions focus on providing visibility over connected endpoints, actions taken, and network performance to enhance the IT productivity through proper monitoring across the organisation.
5. Which is the best Remote Monitoring & Management Software?
There are a lot of RMM software available based on various business needs but it would be wise to consult a software expert before opting for a RMM solution. An expert professional will understand your business and come up with the RMM software that will suit your requirements.
6. How is RMM different from MSP (Managed Service Provider)?
In simpler terms, RMM is the actual work that any MSP do for their client's, which means, the MSP provides Remote Monitoring & Management services to their clients. The RMM services are provided with help of RMM tools and the RMM tools are the backbone of all MSP services.
7. Why should I choose RMM developers from Matellio?
It is vital to choose a RMM software development company who would understand and provide optional solutions for your business as its security depends upon the RMM software. The RMM developers at Matellio understand that and will come up with the solutions that will work for your business and offer you the security it needs without being heavy on your pockets.
8. How can I hire RMM developers from Matellio?
We have created a flexible engagement model for hiring developers that include,
Dedicated Developers Model   

 
You can hire dedicated developers per your requirement and convenience and only pay a per hour charge.    
Let our experts work on project evaluation. This model is for those who are looking forward to the best.    
Time and Material Basis Model   

 
The complete software development process is our responsibility that includes choosing the correct development path.
9. How can I track the progress of my project?
Our development team will keep you up to date through the weekly and monthly updates on the project, and you can choose your preferred communication channel, and we will be happy to communicate via the same.
10. I have a small business, do you recommend RMM software for me?
As the software's workability doesn't depend on the size of business but rather the type of business, it is safe to say that business of all sizes can find its use. As long as an RMM software fulfils basic necessities of your business and can improve it, it is highly recommended.