Get your Human Resource Information Software Developed by the Experts
Simplify human resource information maintenance for the data of your entire organisation, upgrade to a capable HRIS software solution by Matellio. Book a free consultation call with our HRIS software development experts now.
Get Started
What is HRIS Software?
Human resource information software lets you keep and manage the data of all employees in the organisation easily and efficiently. The software solution is equipped with other enterprise management software for the best results. Your custom HRIS software will ensure your business processes are managed perfectly. You can also choose features like a ticketing system to further boost efficiency, we equip the software with all benefits suiting your requirements only, keeping the cost and time to develop low.
Features you Get in the HRIS Software Developed by
Matellio
.
The HRIS software we create for you comes with various features to help you improve your human resource division.
Improve HR Department Efficiency with a Custom Human Resource Information Software
Talk to Us to Get a Quote
Get in Touch
Reasons to Choose 

Matellio

as your HRIS Software Development Company
Our experts at Matellio understand all your concerns and provide you with solutions that solve real problems.

NDAs and Strict Policies
Our strict policies ensure code quality and timely delivery in any given circumstances.

Continuous Reporting
Choose the duration of when you want updates about your project; we follow the same.

Experienced Professionals
The handpicked team of professionals to achieve the best quality every single time.

Flexible Hiring Models
Choose how you hire, select from different models or create your exclusive hiring model.

Easy No-obligation Quote
All we would need from you is a detailed document of your requirements for a quote.

Strictly Agile Methodology
We follow agile methods to ensure better development quality and quick delivery.

Experienced Managers
The dedicated project manager will be helping you in the entire development journey.

Seamless Communication
Communicate through the channels you want, the one that suits your requirements.
A Glimpse of How Your Custom HRIS Software Will Look Like
We design, build and support Human Resource Information Software for clients worldwide. We make your business stand out.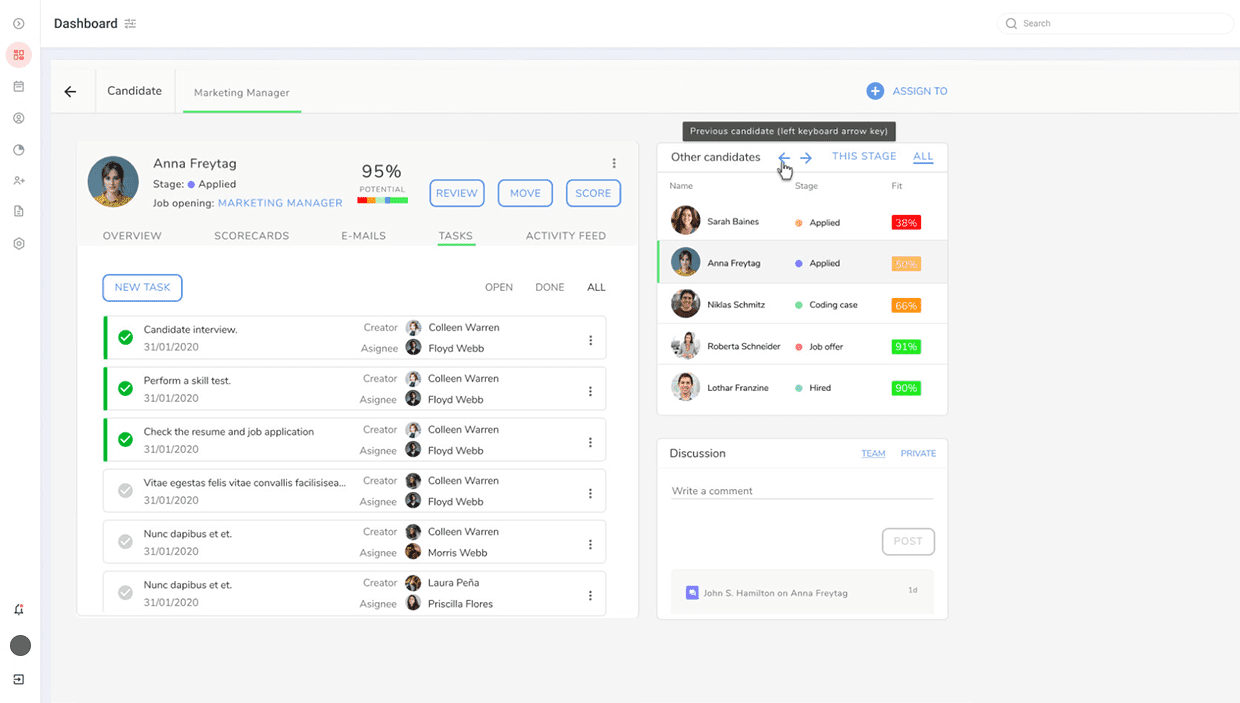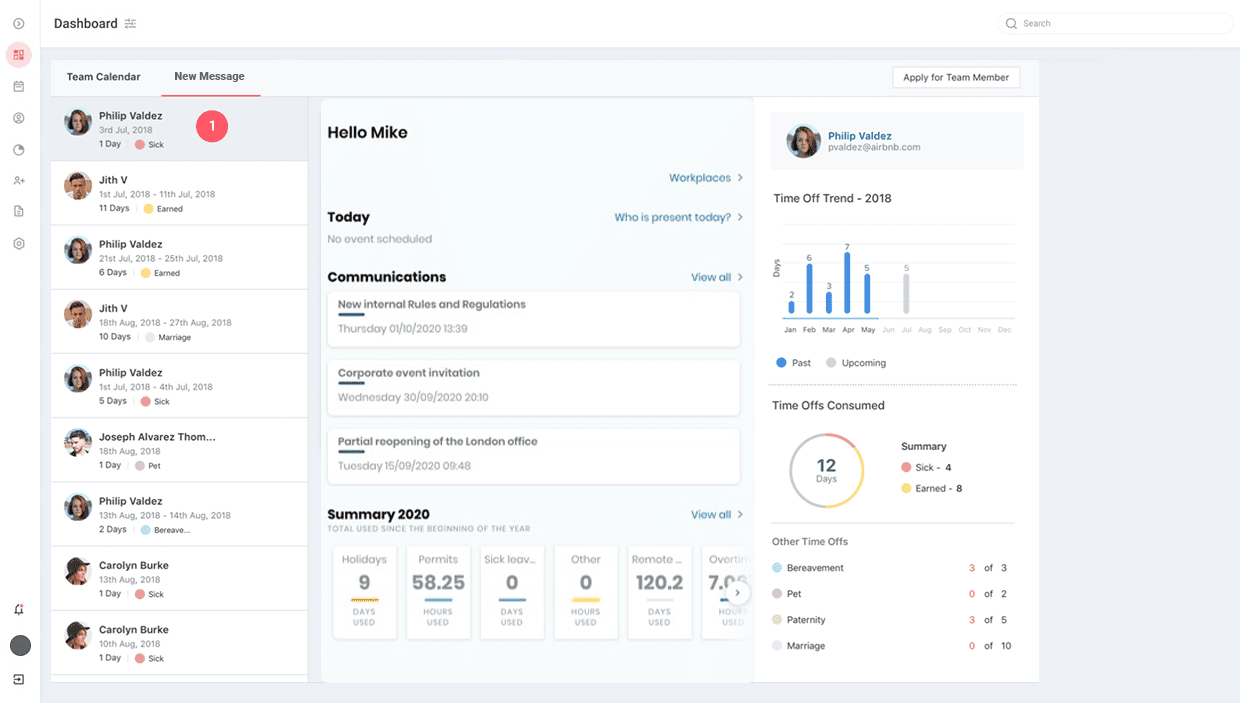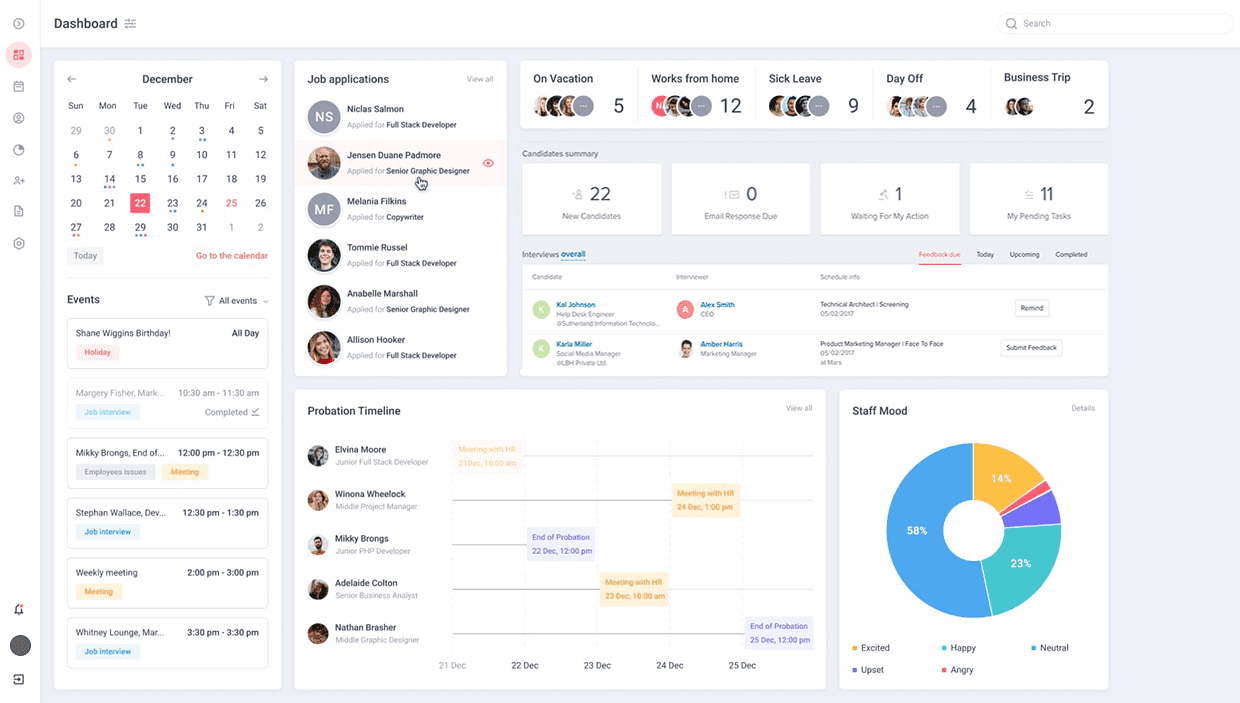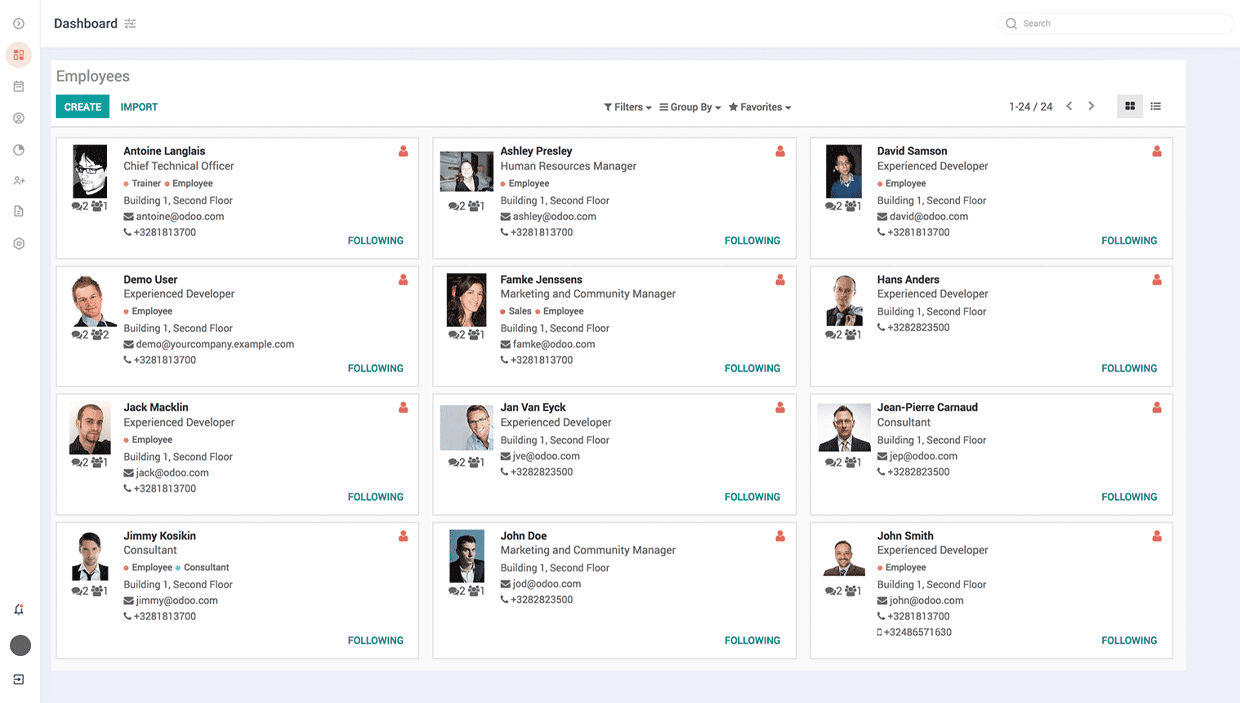 Process of Hiring HRIS Software Developers from Matellio
We keep it simple for our clients to hire HRIS software developers for their next project with the most common hiring models.
Request For Quotation

Talk to Experts
Market Analysis
Feasibility Check
Cost & Time Estimation

Requirement Planning

NDA
Initial Designs
Estimated Work Hours
Sprint Planning

Development & Testing

Building the team
Documentation
Development
Testing

Support & Maintenance

Software Updation
Adding Custom Features
Post-launch Support
Backups
Client reviews
We are very proud of the service we provide and stand by every product we carry. Read our testimonials from our happy customers.
Frequently Asked Questions
Answers to the most common Human Resource Information software development questions by the experts.
1. What is human resource information software?
A human resource information system is a software solution through which you can manage the entire human resource department and its data. The information sources can be your legacy systems, manual entries, HRM, employee management software, and more.
2. How will HRIS solutions affect my business?
The HRIS software solution will be a core solution to improve employee management; while it won't affect profits or business processes directly but will improve employee satisfaction and HR processes.
3. Can I use HRIS software for my mid-scale or small business?
Yes, if you have employees, you probably need the HRIS software to manage them better. The size of the organisation doesn't affect if you need HRIS software; all that matters is how many employees you have and how you plan to manage human resources.
4. Which is the best HRIS software?
The best HRIS software is the one that is custom-built to suit your business requirements. Custom human resource information software lets you save money by removing unnecessary features which are a part of generic offerings. If you are planning for HRIS software for your business, we suggest you get custom-built software for the best results.
5. What are the companies using HRIS?
Almost every company in the world has human resources, and to manage their information, an HRIS solution is required. To answer the question, most of the companies in the world use HRIS software to manage their human resources better.
6. What are the benefits of HRIS software?
The HRIS software solution lets you streamline the entire employee information. A custom HRIS solution will help you easily manage your employees and company assets, The main benefits of HRIS software are: 
Improved employee management

 

Salary information management

 

Asset allocation and information

 

Leave information management

 
7. Why should I choose HRIS software developers from Matellio?
We are a bespoke human resource software solution development company with years of experience in building HRIS software solutions. You get to choose everything, starting from the features to the developers who build the software, and we will build a perfect HRIS for your company.
8. How can I hire HRIS software solution developers from Matellio?
We have created flexible hiring models for the same,   
Dedicated Developers Model  

 

Turnkey Project Model      

 

Time and Material Basis Model
9. How can I track progress of my project?
You will be allocated a dedicated manager, and you can directly ask them at any time for updates on a daily or weekly basis. You will be regularly updated and asked for your specific likings customisations that suit your taste, and you have the option to know the real-time status at any hour.
10. Do you sign NDAs?
If you want an NDA, just mention the same in your RFP. We will take care of it from there and fully comply with it.