How To Hire An Android App Development Company?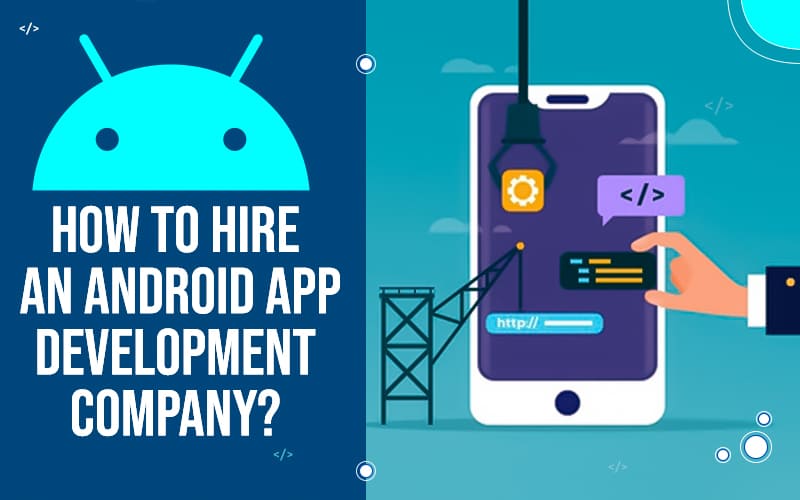 Every company today demands an application if they want to stay at the forefront of the industry and reach out to all potential clients. In this highly cutthroat marketplace, mobile apps can bring in new clients and help your business develop. If you're running a business in today's increasingly dynamic and highly developed landscape, you need a mobile app, regardless of what industry you're in. Whenever it comes to building an application, the prominent Android platform is a must-have.
In terms of app development, Android has always been at the pinnacle of success. As per Statista's new findings, Android's user base will reach 87.4 percent by 2023. To put it another way, having Android app development allows you to reach a larger audience. The mobile app market generated $462 billion in sales in 2019 and is anticipated to reach $936 billion by 2023. While you may be a professional in your field, it doesn't mean you understand all there is to know about developing apps for your company. Hiring a top Android app development company is the best method to go about it. It can be a daunting task.  
As a pioneering android app development company, in this blog, we've decided to provide some details on how to hire an Android app development company? 

But before that, it's beneficial to discuss,  
Why is it so crucial to hire an android app development company? Top reasons and advantages! 
To thrive in this competitive industry, you'll ought to hire a mobile developer that can guide you through the procedure of selecting the right technology. Not only does your technology partner assist you in selecting the proper technology, but they also assist you in making your product feature-rich and robust by utilizing cutting-edge technology. Businesses can also use mobile applications to create brand awareness. It will also boost user growth, attract potential customers, and provide a bigger return.  
Now, let's check some reasons to hire an Android app development company/developers! 
When you select an Android app development business to create a custom android mobile app, you can rest assured that the provider will do it with complete attention and focus, rather than an in-house team with a task list that includes a little more than developing apps. It is much more convenient and time to use a company. The programmers' job in the company is to create apps, which means they'll devote all of their time and resources to the task at hand. 

 

Among the most significant advantages of hiring an Android developer from a reputable Android app development agency for your projects is dedicated attention. An Android app development company will ensure that the most recent innovations, tools, a client-focused center, and dedication are all incorporated.

 

Once you hire an Android app development company, you're getting a team of people who have the necessary skills to research and build your custom Android app. 

 

A senior professional manager will be assigned by mobile app development companies. They would not only oversee the project's progress but will also establish communication between the client and the engineers. They may communicate with both groups to ensure that your application turns out just how you wanted it to. 

 

Hiring an android mobile app development agency over a freelance developer or an in-house team will save you money. To accommodate all types of clientele, from entrepreneurs to organizations, most mobile app development companies offer various pricing plans. You also pay a flat rate for the work, not for the software and hardware they use, with an agency. 

 

The finest android app development services also provide advice on the most productive techniques for developing the app and the project's budget. You can have access to the elevated cutting-edge technologies on the market by collaborating with an Android app development business. To provide the greatest service to its customers, an Android app development firm employs cutting-edge tools. Its mission is to create software platforms. As a result, they have access to the most cutting-edge technologies available. 

 
Apart from the above-mentioned reasons, below are some benefits of hiring an Android app development company. So take a look! 
Top Advantages of hiring an Android app development company! 
Some of the prominent advantages of partnering with a top android app development company are: 
You will get a committed and focused group of peoples

 

Ensures better pricing

 

Comes with vast technical knowledge

 

Better risk management

 

Effective Time-to-Market

 

Provides support and maintenance services

 
As of now, we've discussed the benefits and reasons for hiring a top android app development company. If you are willing to hire android developers or want to outsource your android app development task to one of the best android app development companies, then don't miss the upcoming section. 
Now, it's time to discuss,  
How to hire a top Android app development company? key points to consider! 
If you're looking to hire an android app developer, keep the following suggestions in mind to make sure you pick the ideal one for your company/business. 
1. Check their tech stack 
Effective choice of mobile technologies is an important aspect of the development cycle, and when it comes to Android app development, there could be a lot of debate regarding whether the method, future technologies or framework is ideal for your project. Before you begin looking for proficient Android developers, you must first determine what abilities and experience your developers will possess. To discover the ideal people for your project, you'll need to write a complete description.    
2. Plan the requirements 
It's not easy to find Android app developers. It is strongly recommended that you establish your Android app development objectives and specs prior to meeting with the development company. The size of your initiative (the scope of the app) can assist you in determining how many developers and other teammates you'll need for your work. You can engage Android developers working with us for larger, continuing projects, or you can outsource an Android app development company like Matellio for a tiny app or perhaps only for upkeep, up-gradation, or debugging.  
3. Check team size 
Examine the size of the team. Examine the number of app developers employed by the organization, as well as their expertise and seniority levels like: 
Junior android app developers

 

Middle-level developers

 

Senior android app developers

 
Plan for the interview to take place. Examine the app's developers. You can use the following criteria: a good command of the English language, creative contribution to your app concept, critical thinking, and industry expertise.   

4. Check their portfolio 
When looking for an Android application development company to hire, look at their portfolio initially. It is critical that you thoroughly investigate the organization you are planning to hire. This procedure allows you to gain a better grasp of the company's capabilities. The most essential factor of a profitable and trustworthy custom app development company is its diverse portfolio. Before approaching any organization, look over their previous work and read through the company's client feedback. It is now possible to obtain online evaluations and opinions, as well as a portfolio, for any android app development services, thanks to the Digital.  
Recommended Read : Top 10 Mobile Application Development Trends to look for in 2021
5. Connect with their previous clients 
When you've found an Android app development company you like, ask for recommendations, especially a list of prior clientele. Communicating with their prior clientele will allow you to get honest answers to common questions such as how attentive they are, how companies treat customers after they receive the assignment, and how they deal with issues, among other things.    
6. Remember NDA 
A non-disclosure agreement (NDA) and a confidentiality agreement can prevent you from getting your thought or idea from being misused. You must prioritize signing NDAs and other confidentiality agreements in today's competitive marketplace to avoid your application idea from getting into the wrong hands. Signing such a contract with your contractor will not only protect your business secrets, but it will also assist you in avoiding future disputes with your application.  
Why choose Matellio for Android app development?  
Matellio, a leading Android app development company, aims at developing elevated Android apps that may help our clients grow their businesses. There are many Android app development agencies on the market, although we are prominent in business practices and have unparalleled experience in this industry. Our expertise assures that all contemporary Android technology, such as wearable gadgets, is compatible, but we are breaking more than just this industry right now. For enterprises, mobile applications have opened up new opportunities for greater customer connection, inventive marketing, and market expansion, and Matellio ensures that our customers get the most out of these Android innovations.  

Conclusion 
The mobile industry has become extremely difficult to navigate, especially for newcomers and companies. To maintain a competitive edge and be recognized by multitudes of people all around the world, you must choose the top android app development company for your project. If you follow the steps outlined above, you will be able to hire top android app developers for your project. A skilled android app developer creates high-end apps that help you achieve your business goals. If you are looking forward to entering the mobile industry and looking for proficient app development services, hire Matellio, a leading Android app development company ready to assist you in realizing your vision. Please contact us if your business requires to get a leg up on the competition on Android app development.  
Read Also : Benefits Of Cross-Platform App Development And Why Businesses Should Consider It