How To Develop A Car Insurance App Like Root?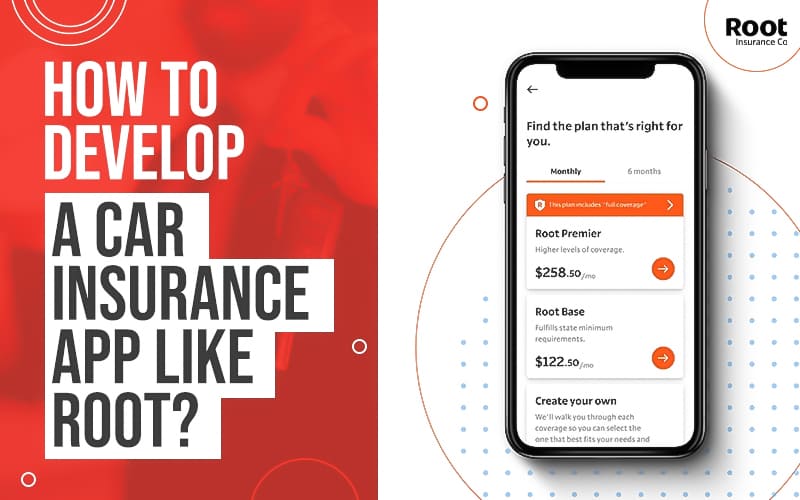 Our lifestyles are now ruled by mobile apps. Because a mobile application is the finest way of managing activities, it is in high demand across all industries. The growth of mobile app development over the last half-decade has proven that customers prefer smooth and quick mobile apps – the power of mobility has caught up with the insurance app development sector and is now being leveraged. There are thousands of mobile applications commercially available to assist mobile phone users in their normal routines. For the car insurance app development sector across the globe, mobile applications have appeared as a game-changer. To reach their intended clientele, insurance businesses no longer rely primarily on normal channels, including such brokers. With mobile applications in the insurance industry, every industry recognizes the necessity to integrate technology into its core business. Building an excellent car insurance app will benefit your business if you are an insurance firm or work with insurance service providers. However, in order to provide a positive user experience, the application must be well-organized and work in unison. In this blog post, we'll discuss why you should create a car insurance app, as well as the features, pricing, and best practices for creating a car insurance app.  

But, before discussing the development steps of the car insurance app. Let's discuss, 
Car insurance app: is it worth it? 
Car insurance applications perform the same function as standard insurance business websites but with more accessibility and convenience. The goal of car mobile insurance apps is to give users easy-to-understand information and activities. Options for managing policy information, submitting claims, reviewing driving behaviors, and chasing discounts are all common features. In many ways, the insurance industry's tardiness in adopting AI and app technology is unexpected, given the speed with which other businesses have embraced these technologies. The difference a data-driven approach to modest but critical chores like mileage monitoring and claims validation may make to car insurance customers' experiences would be considerable. 
The insurance sector has a lot of potentials. In nations such as the United Kingdom and the United States, insurers evaluate the automobile loan and apply for insurance through an online database. As a result, every individual has access to all insurance-related information at the tip of their hand. Today many clients and customers are looking for faster and easier ways to apply for required insurance or request claim processing. They may simply achieve this with the support of smart app solutions. As a result, car insurance app development can assist your users in making their lives easier, even if they are constantly on the move.  
What Are The Benefits Of Developing A Car Insurance App in 2021? 
Creating a car insurance application like Root might provide you with a number of important advantages: 
You'll need lesser employees and save money on operations because the smartphone app will enable you to interact with clients more effectively.

 

The application would assist the user in submitting a claim swiftly and efficiently.

 

Mobile users spend a lot of time using mobile applications, whereas mobile web accounts are utilized less frequently. As a result, your web app will not be able to provide the finest results.

 

With no need to wait in line for a long time to have your claim resolved

 

You can lighten the pressure on the insurers by giving them more time to do other things.

 

In just a few screen touches, a customer can learn everything there is to know about the business. This application also includes information about the nearest office, regular hours, and a positioning statement.

 

The on-demand insurance software should be able to take the place of a human visit to the client's office.

 

All of the questions will be answered as soon as possible.

 

The mobile application allows you to reach out to your customers more simply. You can improve revenue by providing additional breakdown services and insurance.

 

You can create interactive offsite channels to deal with consumers 24 hours a day, seven days a week, using the insurance app. The insurance app should be more than just informational; it should also support clients in any way possible.

 

Everything will be done without the use of paper.

 
Let's look at a few of the exceptional features of insurance mobile application development for the app owners and the insurance company owner now that you've shown how helpful this app is to the clients. We hope that by reading the following features, you will be able to come up with a slew of car insurance app ideas for your next project. 
Read More– Top 8 Benefits of Custom Insurance Software
What are the key features you need to include in your car insurance app like Root? 
Well, there are multitude of features that you can include in your bespoke car insurance app. As a top insurance app development company, below, we've mentioned a few of the features of car insurance apps like Root. So take a look! 
Login – A profile should include a range of fill-in information regarding the insured object or person whenever new customers sign up. There will also be details on the insured person displayed on the screen. Based on the insurance provider, the profile will include information about the insured person as well as car details.

 

Push notifications – Nowadays, push notifications are the most effective way to reach out to individuals. Customers are always curious about the status of their claims. Even the consumer is interested in knowing if the insurance business has any special offers for them.

 

Chatbot – Perhaps you are unaware, but artificial intelligence-powered chatbots have been popular for years. Instant chat can help customers, and insurance agents communicate more effectively and quickly.

 

In-app chat – The strongest point that should be included in every on-demand insurance application development is in-app chat, which allows customers to communicate with agents in real-time to receive an explanation on what level of insurance scheme they should purchase as well as find solutions to other issues they are encountering.

 

Request a claim – In the event that a covered event occurs, lodging a claim must be simple and straightforward. Users will be able to submit all relevant information quickly, especially when car problems occur. Furthermore, if your insurance app allows you to snap a photo, write a description, or record an audio clip, it will be much more useful.

 

Search – The insurance app should have a search feature that allows the user to look for a specific policy that is right for them. When the insurance company provides a large range of possibilities, this search button will be most useful.

 
Well, there are lots of basic and advanced features that you can add to your bespoke car insurance app. If you want a detailed guide or have some exciting features in your mind to include in your existing car insurance app. Contact us. 

Now, let's move forward and discuss, 
Important steps that you need to consider during insurance app development like Root!  
The key steps which you need to follow in order to build an efficient car insurance app are: 
1. Do proper planning
Investigate the market and develop a plan. Here are among the most important questions to be answered oneself. 
Who do you want to reach out to? Your app should be tailored to provide value to your target demographic

 

Which characteristics are the most appealing and will retain your people engaged?

 

See if there are any other apps that do the same thing

 

Look at the competition, read their reviews, and get design ideas

 

Will you make money from your app?

 
2. Prepare Mockups 
Before working with design features and styles, developing the prototype of your application allows you to focus on the most important aspects of your interface. This will make it easy to determine where the app's essential components should be placed and how the user can access them. When compared to working with a completed design, a prototype allows you to make modifications to the interface sketch far more quickly.  
3. Hire the right app development firm
On the internet, there are plenty of car insurance app development partners to choose from, and finding one should be simple. The cost of such a service will be the primary consideration. Hiring the best insurance app development company to develop your bespoke car insurance app is, without a doubt, the most premium choice. If you have the resources, though, it is a good approach to acquire the app you want without compromising.

4. Select the right tech stack 
You wiill have need to know who your audience is, as well as your budget and objectives. The next step in learning to create an application is to choose a programming language and platform. Your application will be tailored to a specific operating system. You must determine whether you are developing an iOS or Android app as a mobile app developer. You may develop a hybrid app that works on both iOS and Android devices. Framework 7, React Native, and PhoneGap are among the frameworks offered. There will be no need for two distinct teams if these resources are used. A hybrid application is an ideal alternative if your budget is constrained. Any other features must be determined. Any more requirements will add to your budget and may cause problems in the future.  
The technologies that we use to build car insurance apps are: 
Ruby

 

Python

 

ReactJS

 

NodeJs

 

JavaScript

 

AngularJS

 

Django

 

Braintree

 

Stripe

 

Flutter, and many more.

 
Besides the tech stack, you will also need a robust development team to convert your app idea into reality. Below following members are required to build an effective bespoke car insurance app.  
Frontend developers

 

Backend developers

 

QA engineers

 

UI/UX designers

 

Business analyst

 

Project manager

 
5. Test the app
After you've completely finished your app, you'll need to test it to make sure it's bug-free. Make gurantee your applications are easy to use and put your wireframes to the test. You should perform both an internal and external test at the very least. Internal testing refers to the process of your development team evaluating the application as if they'd been end-users. When you provide your mobile application to someone unfamiliar with it for testing, you're doing external testing.  
6. Select the right monetization strategy
To make money, insurance applications mostly use various usage-based insurance models. Here are the three most frequent revenue models used by on-demand car insurance apps.  
Advertisement model – Car Insurance apps that are available on-demand make money by allowing other businesses to advertise on their app.

 

Premium Model – This subscription model, which is the finest monetization approach, will be used by insurance apps to make money. Wherein the user must pay a subscription charge in order to utilize the insurance app's advanced features for a limited time. They will ask you to pay the sum again after the time limit has passed.

 

Referrals model – This type requires the user to share the application with each other in exchange for benefits. This could result in additional downloads for the bespoke insurance app. 

 
As of now, we've discussed a lot about insurance app development. Now, let's move forward and check,  
How much bespoke car insurance app like Root Costs?
Well, it's a bit difficult to estimate the cost of developing an insurance app as it depends on various aspects like: 
Complexity

 

Platform

 

Technologies

 

Features and functionalities

 

Region of a development company

 
If you want a detailed quotation of car insurance app development cost, contact Matellio. Experts at Matellio would love to estimate your project idea. 

Conclusion 
Insurance companies are using mobile applications to streamline the insurance process. Customers will find auto insurance to be a simpler and more comfortable experience with these apps. Building an insurance app necessitates a careful understanding of the technologies. The way insurance companies operate has altered as a result of the apps. We hope that the application development steps presented above have inspired you to create a sophisticated and efficient car insurance app for your company. If you have a great concept for an insurance app but don't know where to start, call a professional insurance app development company like Matellio, right immediately! We have a team of stack developers at Matellio who create the car insurance mobile app using simple coding processes that produce in smooth and reliable applications. If you have any app ideas, please share them with us.