Construction Management Software Development: A Complete Guide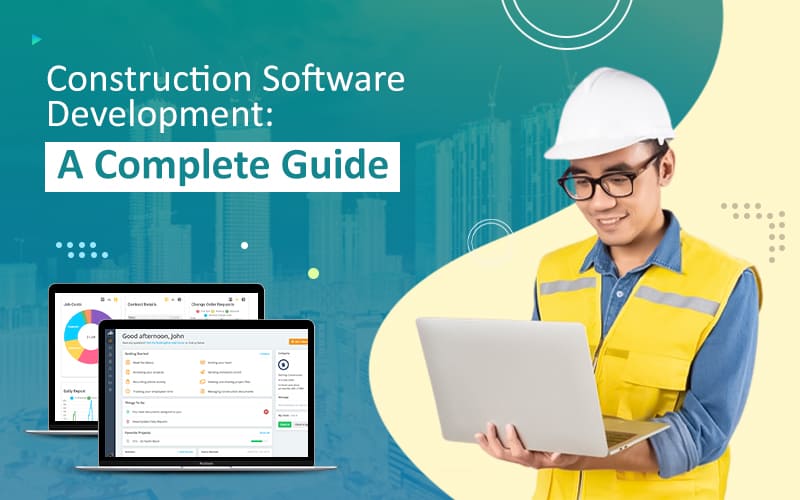 Construction is perhaps the most new and effective industry in the world, with a slightly elevated, segmented, and competitive industry. Task complexities are expanding, business and processes are fragmented, the regulatory environment is constantly changing, the risk of execution is increasing, and there is a shortage of skilled personnel, resulting in significant market pressures and operational uncertainty. The construction industry is paying attention to how construction management software solution may improve productivity and streamline procedures. 
From staying on top of performance to tracking finances, timelines, and the workforce, managing a construction project is a lengthy path paved with difficulties. All of these chores may be made easier with the ideal construction management software.  
As the prominence of such software is increasing among businesses, various entrepreneurs are looking forward to leveraging such software to improve their daily operations.  
But, remember building up bespoke construction management software is not a child's play. You need to take care of each and every aspect of construction management software development. Don't panic! 
Being a top bespoke construction management software development company, we've decided to give all the key information that is required to build an effective bespoke construction software.  
In this blog, we'll walk you through the features, benefits, and key points that you can't miss while developing bespoke construction management software. So, here we go! 

Construction management software: what & is it worth investing? 
Construction management software aids managers in taking a methodical approach to their work. The top construction software is simple to use, allowing employees to ensure that every project runs well. Construction management software allows workers to prepare professional RFIs, transmittals, submissions, business letters, and change orders, which is a sophisticated task.  
Businesses have discovered the savings they can make by investing in construction management software solutions because most of these products are implemented via cloud technology. The solution enables businesses to reduce operational costs while also improving product innovation and scalability.  
Moving ahead, here are,  
Top benefits of construction software development! 
Here are some of the benefits of construction software development: 
1. Easy reporting 
The contractor and workers can use construction management software to determine which equipment is needed and where it is needed. They'll be aware of pending chores and revised schedules. It also sends notification alerts about deadlines and modifications to achieve a specified goal with your schedules.  
2. Easy to handle multiple projects  
Given the complexities and long duration of most construction projects, it's obvious to see how coordinating several projects may rapidly become an administrative nightmare, particularly for independent contractors. 
You may, however, get a bird's eye perspective of the progress of all the projects you're managing at any moment with construction project management software solution. Aside from that, software system saves information from previous projects. 
3. Helps businesses to we expand 
For a company that wants to grow and take over a larger piece of the market, getting construction management software with the correct features is critical. The software will aid in the promotion of effective corporate operations, the completion of projects more quickly, and ultimately an increase in return on investment. With the help of process automation, you will indeed be able to produce and manage more jobs at the same time while keeping all of your expenses under control, saving time and decreasing human labour.  
4. 24*7 accessibility 
You won't be worried about any documents being left in someone's inbox or any essential notes being locked up in a file on a hard drive if you use cloud-based software to manage your construction site. You can do everything online and on the go using applications and cloud-based real estate platforms. Simply log in with your credentials and you'll have instant access to anything you require.    
5. Helps to avoid project delays 
Construction management software improves project planning and control by promoting construction security. It also reduces project delays and improves communication, which helps to avoid costly mistakes.  

As you've seen the benefits of construction software development. Now, it's time to check, 
How to build bespoke construction management software for your business?
Well, if you really want a bespoke construction management software solution for your business, then you need to consider following aspects: 
1. Gather the requirements 
This stage in software development is where the specifications for the product to be designed are gathered. This step is usually the most important for most initiatives. "Who seems to get using the product?" is an example of a question. What type of data gets into the product, and how is it used? And what kind of data does the product return as output?" are all questions addressed in this stage. After you've completed your requirements analysis, you'll want to think about the features of your construction management software solution.  
2. Select the software's features and functionalities 
Features are the most important element of any developments phase. We've gathered all of these construction management software functionalities for you so you wouldn't miss out. Let's take a closer look at them.  
Top features of bespoke construction management software solution: 
Calendar integration – Another essential feature of construction management software is a team calendar for scheduling and arranging meetings. Setting up a shared calendar that syncs with common calendar software guarantees that everyone gets reminders and shows up for meetings on schedule. Important due dates can also be added to your team calendar for a fast overview of forthcoming objectives. 

 

Budget tracking and planning – All report information can be categorised and assigned to specific projects. Your software solution should be able to tell you which projects have higher profit margins and which ones you should avoid. Construction management software can assist you in gathering data for a project, and you are aware of your budget. The actual costs can be compared against the budget. Contractors can monitor their profitability and project development on a daily basis.

 

Track time – Utilize time tracking software to keep track of how much time you spend on tasks and then use the information to automate your billing. Construction management software with built-in time monitoring capabilities is available, but it may come at the expense of other vital functions. To document your work and relate it to client profiles and projects, you can always add a time-tracking solution into the platform.

 

Analytics – Businesses that use business intelligence and analytics technologies are more nimble, effective, and productive, which can indeed be the difference between winning a contract and failing to convert a prospect in the construction industry. Analytics-enabled construction management software can be utilised for a variety of goals and demands, ranging from finance and reporting to new client acquisitions and improving customer relationship performance. 

 

File sharing – Access control, document sharing, and contact lists are all included in the top construction management software. Everyone on the team can input data into the system, and some will have instant access to it whenever and anywhere they require it. Some construction software systems allow you to attach files to projects for easy distribution. Check to see if your project software provides free storage for your files and data while making your selection.

 

Change management – It's really about intelligence and flexibility when it comes to process improvement, and cloud-based construction management software can help with both. When big changes are required in the construction industry, these techniques will often lessen the stress placed on employees and leaders, while also improving the outcomes of forward-thinking methods. 

 

Dashboard – Pick a good software solution that allows you to create team dashboards that are accessible to everyone. Your dashboard can include graphs, charts, visual metrics, and key performance indicators (KPIs). A team dashboard can be used as a project KPI report, and it's a great tool to use during meetings to show your monitored metrics to everyone and compare real-time results to the timetable. 

 

Create Invoice – The simple truth for good project margins is sending correct bills. Work that is completed outside of the scope of the project must be documented and invoiced accordingly. Many contractors who use antiquated procedures waste a significant amount of money. Their field personnel has a difficult time reporting all out-of-scope activity, and even when they do, clients dispute the work. Not only is being able to demonstrate an accurate log and appropriately invoice out-of-scope labour prevent arguments, but it also demonstrates competence to the client. 

 
3. Choose the right tech stack for your construction software development 
The technological stack is made up of all the languages, frameworks, and techniques that are utilised to develop your bespoke construction management software. It's critical to define them ahead of time because you'll need to know what knowledge your development partner should have. This section will undoubtedly be difficult for you but if you're a non-technical founder. If this is really the case, we recommend seeking assistance from top construction management software development company. However, don't rely exclusively on your competitors' technology stack or on someone's subjective assessment.  
4. Design Mock-ups 
It's time to start prototyping a future software now that the major characteristics have been established. We start by creating wireframes that reflect the product's structure and functionality, and then we move on to creating dynamic prototypes. This step is essential because it allows you to picture a future application and see how it will function. Customers can test the prototype and the client can view the interface design on the phone before the development process begins.  
5. Do test your software 
Testing is the next step in the development of construction management software. Testing is the most important element which you can't miss. In this stage, bugs are identified and corrected, and then the product is stabilized, everything must be in perfect functioning order prior to the release.  
But,  
How much bespoke construction management software solution development cost?
Well, it depends! 
The final cost to develop a bespoke construction management software depends on factors like: 
Geographical region of development company

 

Features you want to use

 

Technologies used

 

Software's complexity

 

Platform, and many others.

 
The cost of your bespoke software development will vary greatly depending on these and other aspects, and it's hard to know how much it will cost without a detailed plan and precisely specified criteria. However, you must know that by contacting us, you may obtain a detailed price for construction management software development.  

Conclusion
You now have an idea of the key characteristics that will assist you in using construction management software. As you'll see, it's a remarkable solution that can elevate your building projects to a new level of quality, and it's enhanced by extra management tools. Construction management software is required if you own a construction company and confront issues as large as your projects.  
If you're ready to develop a construction management software, we'd be delighted to share our expertise in the field and discuss your needs. 
Matellio has extensive expertise developing construction project management software and other construction-related solutions. From business development and research to test case execution and support, our team can deliver end-to-end technology solutions.