Things to Avoid While Creating a Mobile Application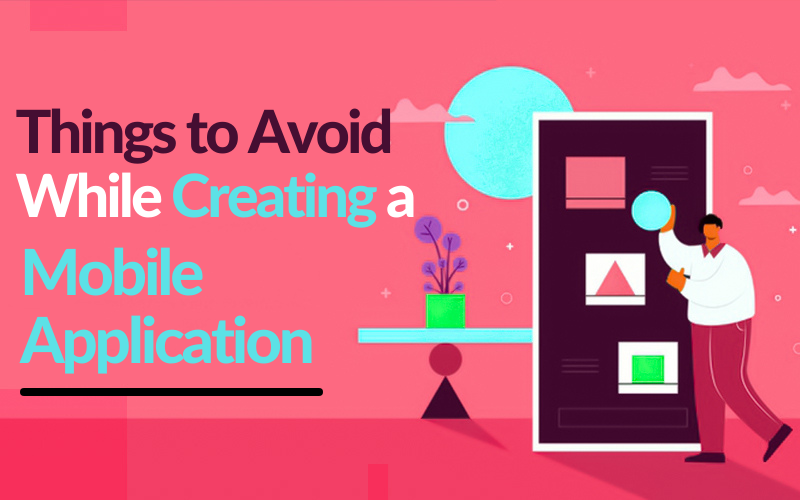 When creating a mobile application, the first thought that comes to mind is how much money can one make from it, and all the advantages spin the head right round. But a lot fewer people think about things to avoid, in comparison to things to do, when building a mobile application. 
There are millions of apps on the store, with new ones being added each day, and a very few out of them succeed, and all the rest fail. 
The mobile app market is no doubt lucrative for almost all types of businesses, but it would be a road to losses if we say that it can be captured easily. It takes major efforts apart from even building a perfect app, for it to be popular and adapted. Think of building a perfect one as the first step of the journey, and you would have to continuously and rapidly adapt to user demands to stay in business, and on top of the charts. 
We are here today, with a list of things to avoid when getting a mobile application developed.
Going in without a plan

Flimsy designs

Not planning for the future. 

Hiring the wrong people

Security and privacy compliance failure

Not implementing the required innovation.

Budget planning 

Let us now go through a brief about them, and why they should be avoided when developing your mobile app.
1.Going in without a plan
We cannot emphasize enough how important this step is, and yet how many people still don't really plan perfectly. According to Buildfire, there are almost 4million+ apps, combined in the AppStore and Play Store, which directly puts you against 4million other apps. Imagine competing within your niche without a plan, when the top-ranking apps have everything planned out, combined with their experience and loyal user base. 
Simply put, plan out everything, and avoid going in without a plan when it comes to creating your mobile app at all costs. You should include everything from the platforms to target, the user groups, age, location to target, and everything in between and beyond. Also, a major part of planning should involve research, which would let you plan what actually works, and build a strategy against the competition.
2. Flimsy designs
The look and feel of the mobile application determines how many people would want to use it, creating flimsy useless designs is a direct disaster people usually do to their mobile apps. This is something you can't compare to the competition, as they may be facing the same fundamental issues with their own apps. The UI/UX developers you hire would highly determine it, as they are ones with experience in it. 
Think of your niche, and try to keep the app as usable as possible, if you want to build lifetime customers. The demands of user groups based on the phones they use are different, and you will have to plan the apps you are creating accordingly. Minimalism is in for most niches and would get you on the path to success pretty easily, try not to clutter and design a good UI/UX, for maximum chances of success. 
3. Not planning for the future.
Planning for the future helps you mitigate most of the risks, and helps you save massive long term development costs. It doesn't matter if you hire mobile app developers or a mobile app development company, you will have to plan this step in advance yourself, and let them know so. The developers will ensure maximum components inter usability between the version they create, and their next planned version. 
While it may seem like an overkill for someone just starting up their mobile app business, it is a common mistake which could save 10s of thousands of dollars in the long term. This ideology is called app development in phases, and if you plan it well in advance, the developers can plan components the same way. Reusable components would not only sync with new ones, but will also let you leverage how they worked in the past, and let you improve them for future releases. 
4. Hiring the wrong people
While a lot of factors decide the developer hiring path you might want to go on, it is something really important and should be put on priority for the money you spend. Now, this isn't technically something to be avoided as a whole, but it is something you need to choose While a lot of factors decide the developer hiring path you might want to go on, it is something really important and should be put on priority for the money you spend. Now, this isn't technically something to be avoided as a whole, but it is something you need to choose
There are mostly 3 major options you can choose from:
One of the most cost-intensive options out of the three, depending on the place you have set up your office at. Hiring developers, designers, testers, analysts, will cost you a lot of money, especially if you are only starting up.  
Hiring freelancers is the cheapest option, but it can push and crash the timeline hard, along with major issues with project management. When you think about it from the flip side, a developer would rather earn much more in a full-time job and is probably 
Hiring a mobile app development company
One of the best and most money efficient of the three given options, as the companies have the whole teams already, and most charge a flat hourly rate for the project. But again, you will have to work closely in either of the cases, and no one would care to build the project intricately unless you push them. 

5. Security and privacy compliance failure

There is compliance which needs to be fulfilled, and usually ignored by entrepreneurs when getting their first mobile app developed. There are both government compliances to follow, and compliances for both stores for your app to be actually put up there. While Google is a bit lax, Apple will rigorously check your app for all the security and data privacy compliances being followed, and would simply reject it if you don't comply. 
The governments of different countries, on the other hand, have their own compliances to be dealt with, you will have to go see their websites for it, based on the country you are planning to target. If you are making the app for a local area, it is easier to not go wrong with it. But if it needs to be available around the world, you will have to go ahead and check with compliance for every country and build your app accordingly. 
6. Not implementing the required innovation.

The world is majorly advancing towards the implementation of data science, AI, ML, AR/VR, and more into mobile apps. With different uses for different types of apps, these technologies have played their part to make sure the apps can be more capable and more advanced. A different plan may work sometimes, but from our experience as a mobile app development company, innovation works the most. 
Try to build something which the users would love, through the technology of your choice, and ask your mobile app developer to implement it in the app. Data is one of the most important ones as an example, it would help you put user-based recommendations in your app, and can directly take feedback from daily usage of each of the users. 
7. Budget planning
No matter how much money you are willing to spend, spending it recklessly is something that should be avoided when developing a mobile app. The fact that mobile apps can cost well over millions of dollars, based on features and intricacy, means you will never have enough money to spend on it. And along with the development of the app, take care of marketing and other expenses while you plan your budget. 
Blowing out early on, when your app is catching up is a very common phenomenon here in the tech world, and the only way to avoid it is to plan your budget. Everything involving the development of your mobile app will require money, and so will everything to promote it, run it, update it in the future, so plan well for at least until you can start making money out of your app to make it self sustainable. 

Conclusion
So, now you have a basic idea of things you should avoid when developing your mobile app, along with why you need to avoid them and the damage they cause. The best bet would be focusing on each of them, as they are very important for app development for most businesses in most niches. Make a list of things you need to take into consideration when planning your app, and take it forward with each step in app development. 
If you are planning to full proof, secure your mobile app's development, we provide custom mobile app development services. We have major experience in building hundreds of Android and iOS apps and can help you achieve your endeavours in the most efficient and feasible way possible. We have a full team of developers, designers, analysts, testers, who have years of experience in mobile app development, contact us to know more about Matellio and our app development services.