How much does it Cost to Develop a Bespoke Courier Delivery App?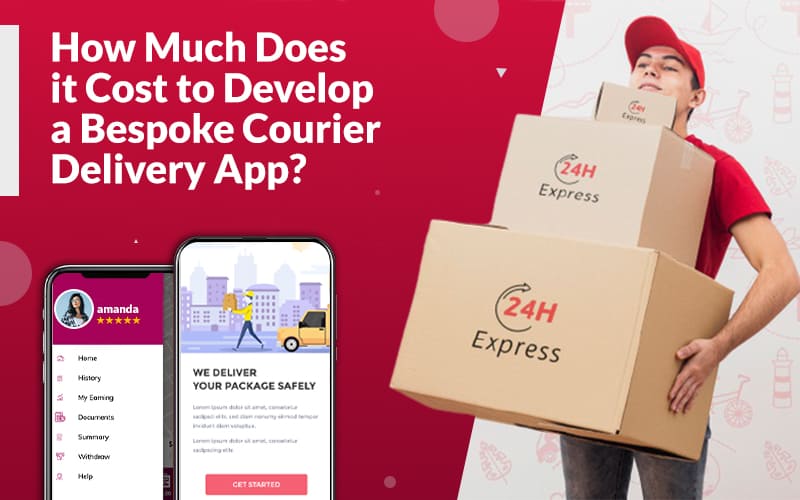 Businesses across a number of sectors are now evaluating the need for on-demand mobile app development. Clientele in various sectors, such as restaurants, healthcare, and eCommerce, has shown a strong interest in on-demand delivery apps; Courier delivery is among the sectors that have evolved due to the impact of bespoke courier delivery app development. 
After all, why not! With fierce competition in the e-commerce market, it's more critical than ever to meet delivery challenges in the right spot, with the right balance, on time, and defect-free. The bespoke courier delivery app services assist you in delivering your shipment while taking into account the time and place. Besides, to become a profitable courier delivery service company, you must have a stunning on-demand courier delivery app at your service in order for your business to operate effectively. 
But how do you build a bespoke courier delivery app for your business? 
We'll walk you through a step-by-step process for developing your on-demand courier delivery app in this blog. We'll also discuss the benefits and must-have features to include in your bespoke courier delivery app. 

But first, let's talk about, 
Bespoke Courier Delivery App Development: What & Why? 
A courier delivery app simplifies and streamlines a delivery service company's operating service. The courier delivery app speeds up the process and gives customers the ability to monitor their packages. It allows users to check the status of their monitoring in about a few taps. 
Besides, an excellent courier delivery app can keep track of orders, packages, routes, and drivers, among other things. Businesses also rely on courier delivery apps to move their valuables from one location to another. It checks up on your package with simple real-time controlling and reporting from the moment it picks it up from your home to the time it delivers it to the location with an automated delivery service, and it keeps you informed about it. 
Let's look at the various types of courier delivery apps before we get into the process of developing an on-demand courier delivery app. 
What are the Types of Courier Delivery App? 
In the industry, there are various types of courier delivery apps, each with its own business model. Here are a few of them: 
Courier service apps

 

Package tracking apps

 

Branded courier delivery apps

 

Parcel delivery apps

 
Moving on, let's discuss! 
Who uses Courier Delivery App? 
The bespoke courier delivery apps are used by a wide variety of individuals such as: 
Courier delivery companies/businesses

 

Administrators of Courier Delivery Company

 

Customers

 

Dispatchers

 

Manager of inventory control

 

Courier drivers

 
But, 
Why go with Bespoke Courier Delivery App Development? Reasons and Benefits! 
It's a brilliant idea to consider how developing a courier delivery app now would help you in the coming years. Here are a few reasons and benefits for developing courier delivery apps. 
As per Research and Markets, the worldwide courier market will expand by 100.19 billion dollars at a CAGR of 6% from 2016 to 2024.

 

To stay ahead of the competition, you'll need the right approach. Companies and vendors are highly dependent on delivery services to meet customer demands. According to McKinsey, today's market share of 35% is expected to double in coming years.

 
Moving on, let's discuss, 
Benefits of on-demand courier delivery app development 
While there are several advantages to developing a courier delivery app, we will focus on the most important advantages of doing so. So, take a look! 
Ensures Complete Transparency – 

With functionality like live monitoring, you and your customers will indeed be able to maintain control over your service, but you'll also be likely to garner a large customer base, which will ultimately lead to increased sales.

 

Improves Visibility – 

You will improve your brand reputation by focusing on the application and consistently providing value to consumers to gain their loyalty and confidence. Happy customers can help you become a significant brand.

 

Improves Customer Retention & Engagement – 

You will improve customer experience by offering better customer functionality using the courier delivery app. Giving consumers anything of value would improve the application's value and the company's brand trustworthiness.

 
Some other benefits of bespoke courier delivery app  
Easy to handle errors

 

Easy to meet customer's high demand 

 

It makes inventory management a breeze

 

Scheduling, organizational errors, and other administrative tasks can be reduced

 

Improves package delivery routing, monitoring, and receipts.

 
As of now, we addressed the top reasons and benefits of courier delivery app development. Now, let's move forward and discuss the features you need to include in your bespoke courier delivery app. So, let's dive in! 
What are the key features that make courier delivery app development successful?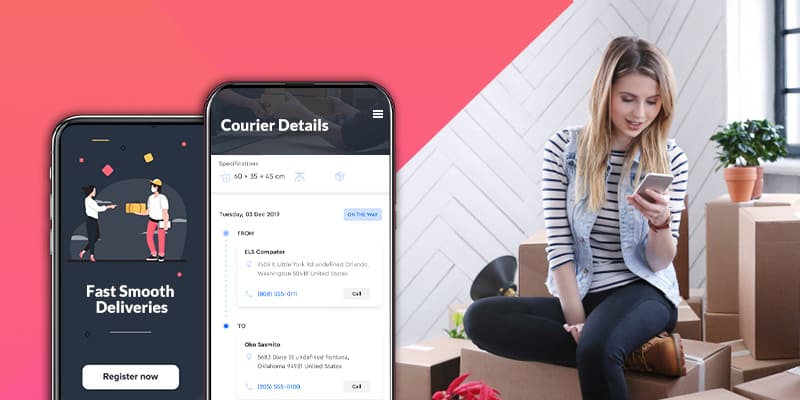 Push Notification – 

The application will send updates for the current point, expected delivery time, and any changes in the route or delivery time using this functionality. Notifications with the driver's details may also be submitted. Customers will be more engaged, and the business model will be more transparent if you use push notifications. You may also use a customized notification to remind your customers of different initiatives or deals.

 

Payment Gateway – 

One of the most significant characteristics of your on-demand courier delivery app is a payment method. It provides your users with many payment options, such as Cash on Delivery, card, or wallet, to finish their delivery payment.

 

Customer management –

 Admins can monitor customer accounts in real-time with the use of a customer support portal management system. The majority of courier delivery software creation aims to create a messaging service inside the app. It aids managers in making contact with customers and discussing critical delivery details.

 

Tracking – 

Another useful feature is package monitoring in real-time. This functionality is essential to increasing customer loyalty because the customers will always know where their package is and when it will arrive. Similarly, the administrator will locate the nearest driver to deliver the shipment as soon as possible. Furthermore, you can find multiple distribution paths, and your app users can add multiple addresses to their favourite locations lists.

 

Accounting – 

Courier companies generate many invoices and need to manage their receivables in a timely and productive manner to avoid being overburdened with paperwork. Courier software unifies all facets of the courier industry, ensuring that order confirmation, account holders, and billing are incorporated.

 

Dashboard –

 The admin panel's home page is the dashboard. It contains a comprehensive description of all data. Managers can use the dashboard to evaluate any situation and make quick decisions based on the reports accessible.

 

Rating & Reviews – 

This functionality allows customers to rate your offerings and provide you with useful feedback. Via input, you will incorporate required recommendations and develop your services. Additionally, since prospective app users can find positive ratings and feedback for your application, this feature will help it become more prevalent throughout apps.

 

In-app chat – 

Customers can monitor their orders and receive satisfaction using real-time chat options available 24 hours a day, seven days a week. A chatbot feature allows customers to inquire about delays in arrivals, receipt generation, and other details.

 

Moving on, 
How to develop a bespoke courier delivery app? Major Steps to follow! 
Until you begin developing a courier delivery app, you must examine and evaluate your concept to see its practicability. You will be able to build a top-notch app if you do it correctly. So, to avoid making any errors, follow these simple steps. 
1. Select the suitable business model 
The very first move is to select the most appropriate business plan. We've already mentioned the critical business model used in on-demand courier delivery applications. It would be best to decide whether to use branded courier delivery apps, package tracking app, postal service app, or on-demand parcel delivery app. To decide what's best, you should think about your company's objectives, long-term targets, target audience, resource availability, and much more. 
2. Do some market research
You must perform market research and evaluate your rivals in the on-demand courier delivery app industry. Examine how they succeeded and how they promoted the service. Don't forget to look at the app's statistical data, available measures, and etc. Mind that only thorough research could help you succeed with industry peers. 
3. Select app's functionality 
You should move ahead on the realistic implementations of your business idea after you've completed all of the research methodologies. You can begin by arranging your reports and specifications in order of importance. You can use this to build a functional specification that contains all of your specifications. Your product's scope and features can differ depending on your business models and requirements. 
Above, we've listed must-have features which you can consider in your bespoke courier delivery app development. You can also partner up with bespoke development company like Matellio for deciding your app's functionality.    
We are proud to support businesses in developing more versatile, user-friendly, and ROI-focused apps as a professional courier delivery app development company in the United Kingdom. The engineers of our custom courier delivery app keep up with the latest trends and changes to ensure that all of your app's components are completely optimized. 
Moving on, 
4. Start the development  
It's time to build a new your unique courier delivery app now that you've settled on a business model and key functionality. UI/UX design, research, and engineering will be included in the creation of your on-demand courier delivery app. The only difference will be in the technology stack and software you chose for your project. 
For the development, you will require a team that helps you to bring your idea into reality. Below following members are required in the development team. So take a look! 
Business analyst

 

QA Engineer

 

Frontend developer

 

Backend developer

 

UI/UX designer

 

Project manager

 

Moving on, let's discuss the core part of the blog, which is, 
How much Bespoke Courier App Development Cost? 
It's crucial to highlight that the cost of an on-demand courier delivery app is determined by several factors like: 
Features and functionality

 

App's complexity

 

Technologies used

 

App's platform

 

Region of development firm

 
Despite the fact that these are interconnected aspects, you must understand them all in the context of your business strategy and budget. You can also start with a simple app and gradually incorporate new features in later versions. 
If you want an in-depth quotation of the app development cost; Let's have a brief call or email discussion to go over your specifications, the number of platforms you'd like your application to be developed on, the number of features and services you'd like to create, and any third-party integrations you may have. This will give us a clear picture of your specifications.  
Recommended Read : How To Hire An Android App Development Company?
Why choose Matellio for Courier App Development?
Matellio's innovative solutions for on-demand courier app development will help you level up your courier service. Our courier delivery software development service assists you in streamlining the logistics and shipment processes and handling and tracking delivery updates. Our on-demand courier delivery apps cover all of the above-mentioned business models. 
Matellio is a leading on-demand courier delivery app development company that assists businesses in modernizing their operations and becoming more innovative. We acknowledge that the path to a better application goes beyond traditional app development architecture, which is why our innovative strategies help courier companies succeed.

Conclusion  
By creating a user-friendly courier delivery mobile application, you will help your company expand globally and positively influence. It helps you produce exceptional revenue while conveniently achieving goals. By having the optimal application, you will become a dominant player and reap tremendous benefits. However, simply creating an app wasn't enough; you must weigh a number of factors to expand your company and provide your users with the on-demand courier delivery app. 
If you want to create an on-demand courier delivery app, contact Matellio – a leading bespoke app development company. From creating your bespoke courier delivery app to other services, Matellio will assist you in meeting your goals efficiently. 
Thanks for reading.