A Comprehensive Guide to Bike Service Booking App Development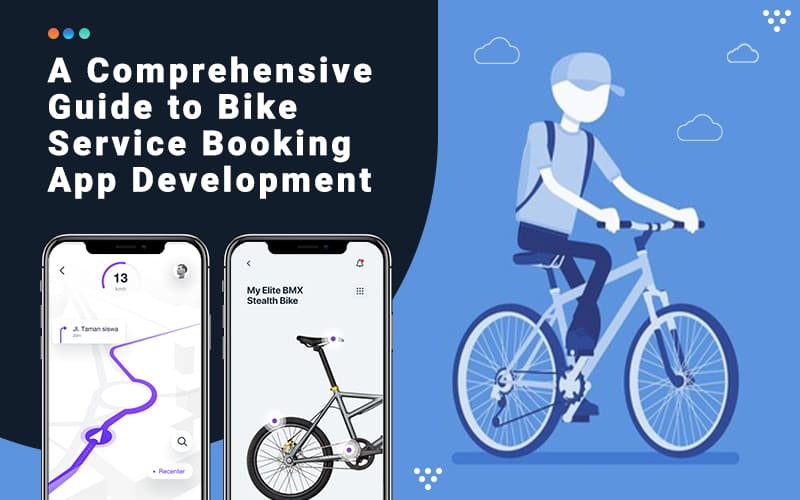 A few weeks ago, England celebrated the opening of its largest-ever e-bike service centre in central London. And only a few days later, Apple unveiled its latest range of features for bike riders in the Apple Watch. f you're a cyclist, you know things are looking up for the sport lately. During and post-pandemic, and since then, cycling as an activity has been on a constant rise. As per the latest cycling and walking reports published by the Department of Transport, UK, in Scotland alone, there has been a noted 43% rise in cycling, and when we add data from the entire sovereignty, it reaches up to the record high of 62%.
If there was ever a time to think of scaling a cycle business with a bespoke bike service booking app, it is now, as is indubitably proven by the massive success of  Fettle, formerly Handlebar. The bike service start-up launched its one-of-a-kind app earlier this year, and since then, has been basking in the glory of its timely decision.  
For businesses in Bike manufacturing as well as bike servicing, the pandemic and the consequent reliability on mobile phones for almost every action in their life has brought on an untapped opportunity. In a world where everyone is so used to getting everything at the touch of their finger, on-demand bike service and repair apps presented a way for businesses to drastically reduce their downtime, enhance customer loyalty, and automate inventory management.
What is a Bike Service Booking App?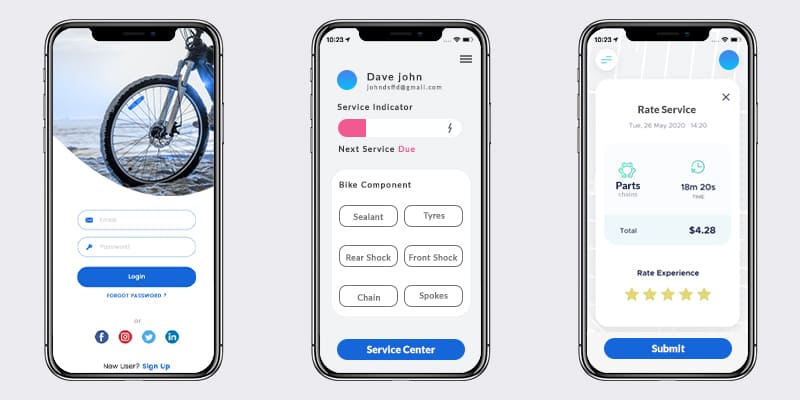 A bike service or repair booking app is an on-demand facility for cyclists to get their bikes booked for service in just a few taps. And though bike repair and service is the main component of the App; it offers myriad opportunities for users to streamline the entire maintenance procedure and for bike service businesses to grow their business and automate most of their tasks with the least downtime. Few other significant benefits of a bike service app would include
Benefits Of Investing in Bike Service App Development 
1. Interminable Booking
One of the major overheads for a bike service company is clerical staff maintenance. Picking calls, getting details from customers, analysing the components, and their presence, can all take a huge amount of time. Not to mention when your staff is handling all these queries for one customer, you're losing out on so many other potential ones. This tedious task can easily be taken care of by investing in bike mechanic service app development. It will simplify not only for you to take the details of a service bookings but also make it easy for users to make a booking at their convenient time.
2. Automate Inventory Management
Bike service workshops need to manage a lot of inventory. And with the growing use of foldable and e-bikes, this problem would only seem to grow in the future unless you figure out how to automate inventory management. By integrating your inventory database with a bike service app, you will make it easy for customers to find whether the components required are there in the stock or not and keep your inventory well-stocked by forecasting demand with Data analytics.
3. Improve Repeat Business
Applications, unlike websites, will stay in your potential customers' mobile phones, making your services more readily available for them. By using best UX practices and specific retention techniques, you can quickly compel your users to register with your App and eliminate competition in the most efficient manner. Not only that, but the App can also prove crucial in improving your cross-selling and up-selling strategies.
4. Simplify Scaling
A mobile app for your bike repair and service business can prove to be a game-changer. The App will swiftly streamline all your processes and aid many of your marketing efforts too. This will allow you to grow your business by covering more locations and minimizing the expenses related to most clerical jobs. While you can achieve all this with a web development service also, but that alone will not give you the edge on customer retention and optimization startegies for cross and up-selling.

Must-Have Features for a Bike Repair App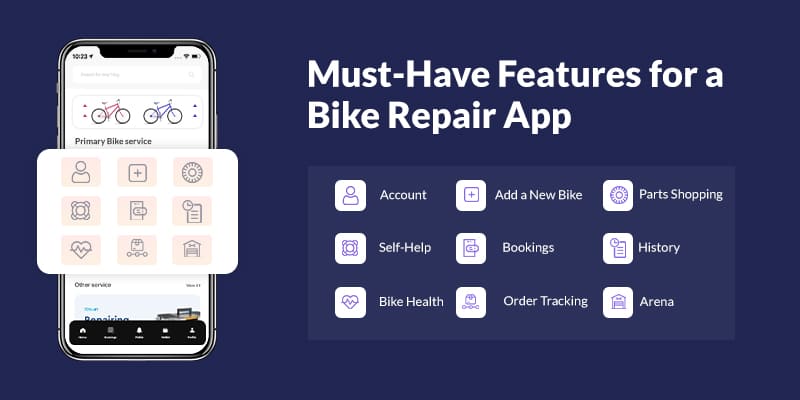 Like any other on-demand app, your bike service booking app must also have these crucial features. They will facilitate the primary offerings that a regular mobile app user has come to expect.
| | | | | |
| --- | --- | --- | --- | --- |
| Ticket Tracking | Push Notification | Order Tracking | Social Media Login | Live-Chat |
Other than these regular features, there will be particular aspects to your App that will be quite specific to the service you'd offer.
1. Bespoke Registration
For your bike service app, registration will require the users to enter details not just of themselves but of their bikes too. The user will be required to enter the make and model of the bike, the year it was purchased, and its current condition. To make the entire process yet easier for the users, you can narrow down the choices with each registration screen.
2. Personalised Dashboard
With a personalised dashboard for your customers, you further ensure that they'll think of you first when looking for similar services or products in the future. You can allow your users to add multiple bikes to their profile and further help them maintain the bike by keeping track of its regular servicing periods and the lifetime of all the components installed in it.
3. Custom Services / Packages
Your App must be comprehensive and at the same time well-organized to make it easier for the users to pick the service of their choice with relative ease. You can categorise your services based on how intensive they are or often they're used. Ideally, your App must also have a section for custom repairs, where users should be able to find all the custom services possible for their respective bikes.
4. Bike Service Reminder App
All bikes require regular servicing. But most cyclists do not have the means or even time to track this timeline. More often than not, cyclists tend to overwork their bikes, resulting in the early demise of some of the components. You can quickly solve this problem for your customers by analysing the current condition of the bike, its make, and model, and then automating the entire maintenance tracking procedure to follow up easily.
5. Parts Shopping
As a bike repair app, users will come to expect you to have a good inventory of major repair and bike maintenance components like saddles, tyres, brake wires, barstem, etc. By allowing users to buy these inventories directly will not only simplify the choices for them when ordering a replacement, but it will also open up opportunities for you to cross-sell items by adding in the personalised choices for them.
Features To Stand Out  
For brand positioning, doing the regular chores is simply not enough today. You'll have to stand out from the competition, making sure that your outstanding aspect is in the benefit of the potential customers, and the features that can help you achieve the same are:
1. Self-help
Like any reputed hospital, you should ensure that your registered users get the first-aid information for their bikes in case of emergencies. Ideally, it would be best to have a separate section in your bike mechanic App where you can simply share content with your users. This content should be easily navigable and may contain a link to your product stores in case your users are into DIY.
2. Club – Coaches
Another sure-fire way to see that your registered users are opening the App more often is to build a community around it. Over 24%  of mobile users have affirmed that they regularly spend some time on their favourite fitness and health app in the UK. And your App can easily become one of those by adding all the elements that a cyclist would come to appreciate. You can have dedicated coaches for cycling on your App to interact and train your users when they subscribe to the service. 
3. Events
What's a club without events? Suppose you decide to scale your simple bike service app to a full-fledged social media channel for cyclists. In that case, you can organize events for them to participate in and add another channel for your marketing team to leverage!
4. Insurance
With a full-service app, you will easily partner with insurance companies to cross-sell their services to your users. You will then again become a sole-go-to place for your users for everything concerned with their bikes and the entire cycling experience.

Steps to Develop a Bike Service Booking Mobile App  
While you can apply most of the best approaches applicable for most generic apps to your bike repair mobile application as well, there are specific steps, which no other app might require, but for a bike service app, they can prove to be a game-changer.
Planning: 

 
Planning is a crucial first step for an app with so many components that need to communicate with each other flawlessly. In this stage, you will need to understand all the features you want to add to your App, and their respective feasibility. And for all the personal information you'll be required to collect, you will need to have certain policies prepared to cover the legal obligations. Other than that, substantial time should be invested in formulating the UI/UX plan for the App or hiring someone for the service.
Your target user will, more often than not, be short of time. They will expect the results in the shortest period and would like to give the required information as quickly as possible too. Other than that, you will also be required to finalise the operating systems and the kind of App you'd want; on which basis, you will plan the technology stack for your App. Some of the major technologies that you can use for this purpose include: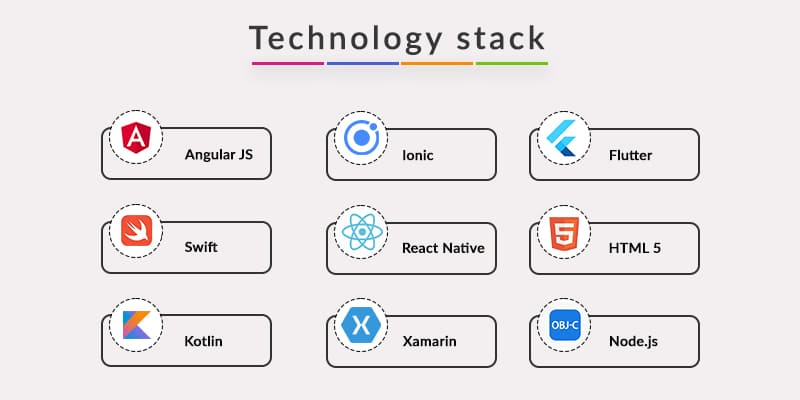 Once that's done, you can then focus on transforming the final features in terms of experience for users with the next step of wireframing.
Wireframing: 
While creating a wireframe, a process where bike service booking app developers will design the screens for a seamless user experience, bear in mind that a cyclist in need of repair may not want to provide confidential or even personal information upfront. They would first want to enter crucial and relatively harmless information, like the state or city where they need the bike repair service or the kind of service the user is looking for. Information like personal and contact details should be asked at the final stages of app registration to keep the user engaged and solve their problems sooner.
Location for Repair 

When a user enters the App for the first time, you may want to ask them the location. If your services are limited to certain areas, you can populate those as options for the user so that you can filter out all the requests that you anyways cannot accomplish.  

Make & Model 

Here you can populate all those makes and models that are serviceable at the particular location mentioned by the user. In doing so, you can further downsize all the possible services available for the specific bike and generate the list of only required components.

Kind of Service 

Again, depending on the model, you list out all the standard and custom services available. You can plan this section as per your business model, but make sure you're not overwhelming the user with many choices. Instead, categorise them all neatly for a swifter solution.

Bike's Condition 

Here user will be able to provide information, whether the bike is in ridable condition or not. This option will not only allow you to create a better estimate for the service, but also simplify the selection of transport mode in case they decide to use your services for pick-up and drop-off.

Delivery Type 

Quite bespoke, here you may ask the user whether they want to get their bike picked up from and dropped off to some location or if they'll be dropping and then picking it themselves from the nearest service centre. In case they ask for a pick-up, you can generate a list of possible timings and dates.
So far, we've only asked the user to provide the details they anyway wanted to share. Now is the right time for the App to ask the user the confidential but necessary details to complete the order, like the user's contact and payment details. Always try to put the payment page at the end of the order to ensure the user doesn't bounce out due to an early paywall.
Development: 
Having the entire wireframe prepared, you're now ready for the actual Bike repair and service booking app development process. Now, bear in mind, a bike service booking app is a fairly complicated app to develop. The more features you'd want in your App, the more complexities it will bring not only in terms of the development of the App but data management as well. Ideally, you'll have the agile approach to the process so that you can release the essential features first and then continue scaling the App to its utmost potential.
While the development of the App itself, you can integrate it with the best data engineering practices. So that once the App is released, you can start collecting meaningful data right from the beginning. This will help you make better decisions for both your business and the App for future scaling. You can know from the start which locations require what kind of services and products more often than others. You can also use the data to help cross-sell useful products to your users.
Testing: 
With features so complex and inter-related, you will need to perform heavy-duty Quality Analysis on your App. With the agile approach, you can fix all the defects and bugs even when the feature is still under development. This will not only expedite the release date by initiating the testing phase early on but will also assist in maintaining healthy dependencies between different features.
Maintenance:  
Any app with dynamic constituents like in-app shopping, real-time tracking, inventory management, time-management, order tracking, and personalization needs a team for regular maintenance. While most of the tasks can be taken care of by the App itself, including providing the relevant information, and booking orders for services, a team will still be needed to process those orders. Although, you can automate the inventory collection by sending purchase orders directly to the vendors once the stock of certain bike components is near ending, you will still need a team to maintain integrity within the App and servers. 

How Can Matellio Help with Your Bike Service & Repair App?  
A bike service app, like any other on-demand app, can be pretty complex by nature. From an uninterrupted user experience to consistent updating of records on servers, the above steps clarify that the App requires more elements than what first meets the eye.
As a leading service provider for on-demand app development services, Matellio can solve all these complexities quite effortlessly. Our huge tech stack, including state-of-the-art technologies like React Native, Swift, HTML 5, Flutter, Ionic, Kotlin, allows us to efficiently expand the features of your most complex requirements. And our experience in developing bespoke on-demand apps for food delivery, e-commerce, eWallets, finance, job portals, medical delivery, etc., gives us an edge in creating the most competitive of User Experiences for your App. 
But it's not just our tech prowess that makes us your ideal on-demand service app development partner. We understand the industry like none else. Having worked with industry leaders, we know how crucial inventory management, order tracking, record accuracy, and seamless payment are for the best bike service app. And we use this detailed knowledge to create an effortless experience for both users and managers. 
After all, in the end, we want your App to be an accessible bridge between the service seekers and your team so that they both can connect in an automated fashion and you can grow and scale your bike service business ceaselessly.